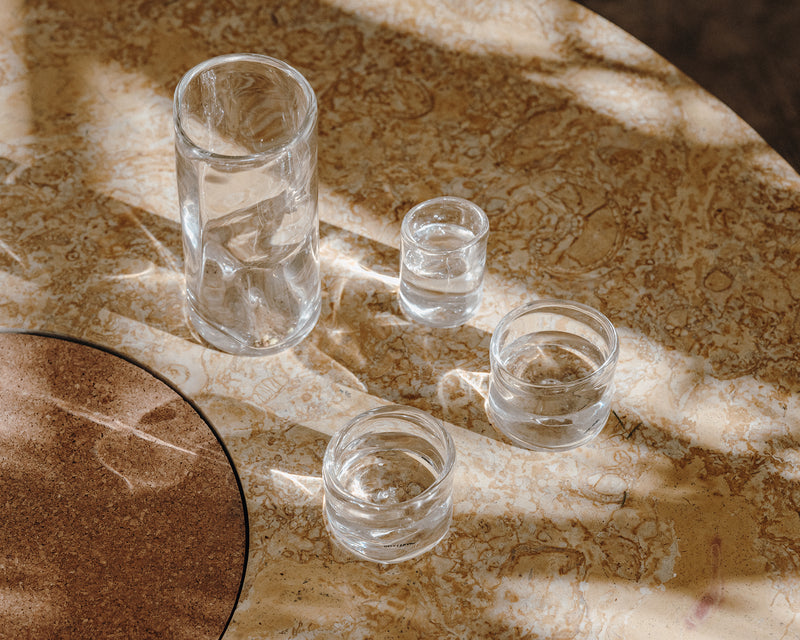 Designed by Copenhagen-based Studio 0405, the 0405 Wide Glass is expertly handcrafted in Europe by a glassblower and shaped to create a tactile experience. The glass is ideal for serving daily beverages.

Features
Materials / Dimensions
Care and Maintenance
Design
Shipping
Crafted with highly durable glass
Each piece is hand-blown and unique
Dishwasher-safe
H 7 / W 8.5 / D 8.5 cm
Holds approximately 250 mL
Glasses can go in the dishwasher up to max. 70°C
Glasses should not be used for beverages hotter than 70°C
Design by Studio 0405, 2018
Made in Czech Republic
Free worldwide shipping on all storage until October 1st. Use code: STORAGE23

Most US orders ship from our warehouse in New Jersey. If we are unable to fulfill a US order from our US warehouse, we will fulfill it from Denmark and cover any duties.

Receive free shipping on most small goods. For larger items/orders, shipping costs will be calculated at checkout, depending on the size and weight of the items in your order. Upon entering your shipping address, you will be prompted to move to the shipping window where your checkout total will update with the appropriate shipping rate.

In-stock items usually arrive 5-8 business days after warehouse handling. If an item is not in stock, you will see the lead time displayed on the product.
FRAMA's 0405 Glassware Collection comprises everything you need to set a welcoming table where each piece is an individual work of art, reinventing traditional glassware with organic details.