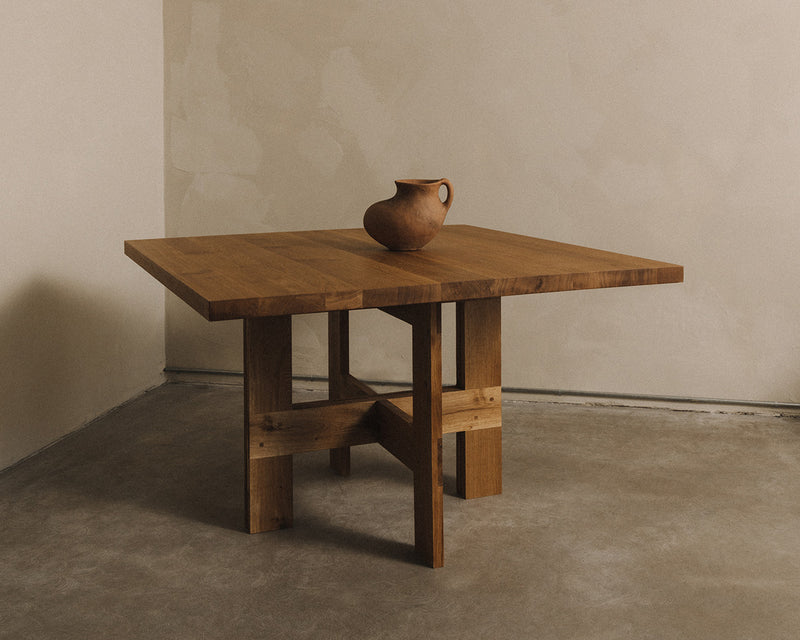 The Farmhouse Trestle Table Square is a versatile item with a symmetrical shape allowing equal access from all sides. Crafted in high-quality solid oak, supported by trestles, and inspired by traditional farmhouses with a rural aesthetic, the table is a durable piece that accommodates a variety of events and gatherings. Its square shape creates a structured and organized feel, maximizing the use of space and serving as a focal point in any kitchen or dining room.
Features
Materials / Dimensions
Care and Maintenance
Design
Shipping
Flat packed
Easy to assemble and move around
Due to the nature of the material, each piece is characterized by unique wood marks
The trestles may support different table tops beside the one included
Includes trestles to support the tabletop
Ideal amount of chairs: 4
H 74 / W 120 / L 120 cm
Top H 4 / W 120 / L 120 cm
Trestles H 70 / W 76 / D 41 cm
Daily cleaning is done with a soft cloth wrung out in clean water
Avoid using cleaners containing any type of chemicals on the furniture
After cleaning, the wood should be dried with a soft cloth to prevent streaks and scratches
Design by FRAMA Studio, 2022
Made in Lithuania
Free holiday shipping on all orders until Dec 20th. FRAMA reserves the right to fully refund and cancel free shipping orders in the case of costs incurred outside average shipping value.

Most US orders ship from our warehouse in New Jersey. If we are unable to fulfill a US order from our US warehouse, we will fulfill it from Denmark and cover any duties.

In-stock items usually arrive 5-8 business days after warehouse handling. If an item is not in stock, you will see the lead time displayed on the product.
A durable table that accommodates a variety of gatherings.