How to Decorate a Living Room
Deciding on how to decorate a living room can be challenging. The living room is typically the center of any home, where we gather to relax and unwind with friends and family.
When designing and choosing decor for the living room, you must create a place that serves both practical and aesthetically pleasing purposes. This guide will walk you through our best ideas for decorating yours.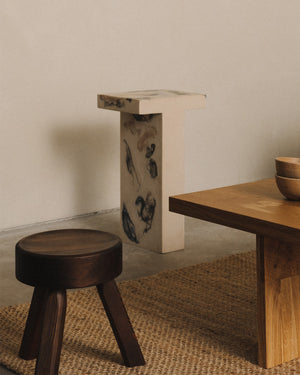 1. Living room storage ideas

Finding the proper storage for the living room can help strike a balance between functionality and aesthetics, contributing to a more comfortable and appealing living environment.

Living room storage cabinets are an essential element of any well-designed living space. They provide enough storage space for your belongings and also contribute to the design aesthetics. Cabinets are multi-purpose storage furniture for your living room that accommodate everything from books and other household items. You can enhance the feeling of your living room while keeping it orderly and clutter-free by selecting a style that compliments your living room decor. You can find our wooden cabinets, such as the Shelf Library Cabinet, and our aluminum cabinets, such as the F-Cabinet, to get inspired for your future living room storage solutions.

A chest of drawers can be used in a living room as they are not only functional but also a storage solution that can be an important part of the interior decor of any room. If you're looking for a wooden drawer, the Sutoa drawer by FRAMA is a unique example of a statement furniture piece.
2. Living room sofa ideas

In search of living room sofa ideas? The sofa is often the centerpiece of any living room, so selecting the perfect living room sofa is essential for creating a welcoming and comfortable environment. In the realm of sofa materials, selecting the right one plays a pivotal role in defining the character of your living space. Different materials offer varying aesthetics, durability, and comfort levels.

Ash sofas are crafted from smooth-grained hardwood and are long-lasting. When buying a wooden sofa, thinking about both functionality and design is crucial. A wooden sofa with armrests can be a great option if you want more support and comfort when sitting on the couch.

There are numerous designs to choose from when it comes to wooden sofas. Some are more classic and traditional in composition, while others are a more functional and considered a modern sofa for a living room. There are also wooden chairs or wooden chairs with armrests that can complement the sofa and create a cohesive interior design in the living area. At FRAMA, we offer a variety of wooden sofas that are crafted with quality in mind.
3.  Coffee table ideas for the living room

When choosing the ideal coffee table for your living room, size, shape, and material all play a pivotal role.

A coffee table that is too large can overpower a room and make it feel cramped, while one that is too small can lack functionality and purpose. It's essential to measure your living room and choose a coffee table that complements the proportions and allows for easy movement around it. 
The shape of your coffee table also influences the overall living room aesthetic. A modern round coffee table can soften the lines of a room filled with angular furniture, creating a more relaxed and balanced atmosphere. Alternatively, a rectangular coffee table may complement a more linear and structured design.

The coffee table materials also play a role. Consider a round wooden coffee table if you desire a warm and inviting centerpiece. Wood exudes timeless charm and offers various finishes to suit your decor. On the other hand, a round marble top coffee table introduces an air of luxury and sophistication. If you're inclined towards a more classic and versatile option, a dark brown coffee table could be your choice.

With the right coffee table, you can create a cohesive and functional living room that suits your needs and personal style. For many, side tables are also a vital component in any room. At FRAMA, we offer a variety of side table ideas that can elevate the look and feel of your living room.
4. Living room decor to elevate your space

Decor for the living room can help bring the space to life. These elements not only personalize the space but also add texture and depth. Art, room dividers, books, and small bowls are all excellent choices. 

Try creating a small display on your coffee or side table by stacking elements on top of one another. Incorporate petite stools as they do double duty as both a surface for showcasing objects and a visual focal point within the room. Discover a world of modern living room decor ideas and home objects to help you craft a living room that reflects your needs and style.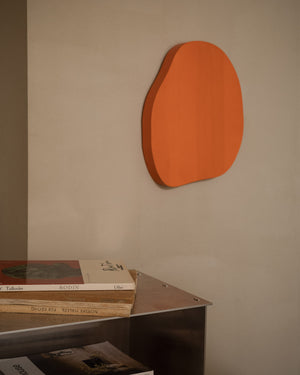 5. Lighting ideas for the living room

Finding the best lighting for the living room can be a challenge. Modern living room lighting can be a crucial element when creating the perfect atmosphere in your living room. It's important to choose the proper lighting that illuminates the space and adds a cozy and inviting feeling.

There are several lighting options for the living room to choose from. Firstly, it is wise to think about the living room's multi-functionality. Several light sources and settings may be required to achieve the necessary atmosphere and functionality for different activities such as reading, or relaxing. Secondly, the type of lighting you use might influence the mood and feeling of the living room. Soft, warm lighting can help you relax, while bright lighting can help you concentrate. Here are some living room lighting ideas that will inspire you.
Living room lighting ideas for a low ceiling

It's important to keep a few factors in mind when choosing lighting for a low ceiling living room to create a balanced and comfortable environment. To begin, avoid using excessively big lamps because they might overshadow the space and make the ceiling appear even lower. Choose low-profile lamps, such as flat or semi-flat ceiling lamps, to blend in with the ceiling and create the illusion of height. 

In addition to height, the direction and distribution of the light must be considered. Choose ceiling lamps that cast light upwards towards the ceiling to give the area a more broad and airy impression. Use low ceiling lamps that spread the light to the sides if you prefer a softer and more diffused light. You can make the most of a low-ceiling living room by choosing lamps that suit your needs and preferences.
High ceiling living room lighting ideas

Regarding living room lighting for a high ceiling, you can choose lamps that can hang down and create a visual effect. Here are some lamp choices that can work nicely with a high ceiling.

Pendant lighting for a living room with high ceilings is a classic and elegant way to illuminate a space. It can be hung from the ceiling to give an aesthetic appeal. With a wide variety of styles and designs available, you can easily find a pendant lamp that suits your personal taste. Choose a stainless steel or brass pendant light to add a touch of elegance, warmth, and refinement to your living space.
A floor lamp is an excellent alternative for adding versatility to your living room lighting. It can be adjusted to suit your needs and can create a warm and relaxed ambiance. You can select a floor lamp that matches your own taste. If you're looking for a one-of-a-kind floor lamp, consider The Eiffel Floor Lamp with a marble or travertine base.
Decorating a living room with FRAMA

If you want to improve your living room aesthetic, FRAMA can help you turn it into a functional and pleasant space. To enhance your living room, we provide a choice of aesthetically beautiful and functional storage furniture, sofas and seating options, lighting, and decor. 

Our selection features a variety of design styles, ranging from bold industrial to subtle minimalist elegance, guaranteeing that you have everything you need to upgrade your overall living room aesthetic.