Frama L'Auberge
Inspired by travelling within our imagination, we created L'Auberge, a mesmerizing and dreamlike hotel transporting guests through nature, time, and space.
SERVICES:
Rendering Exploration
L'Auberge is a digital reflection of the physical universe that FRAMA represents. A universe where past, present, and future merge into an enclosed digital scenario. An environment that offers surprises and conveys feelings, a place where boundaries and dialogues between fiction and reality coexist.
FRAMA envisions a surreal, ever-evolving hotel that displays a hands-on approach to design. Paying homage to FRAMA's creative history, products of nature have been thoughtfully cast to represent new forms.
A space that blends seamlessly throughout, FRAMA L'Auberge defines tradition with a modern aesthetic. Here, furniture and home goods metamorphose into characters populating a guest house inspired by tactility, forms and materiality.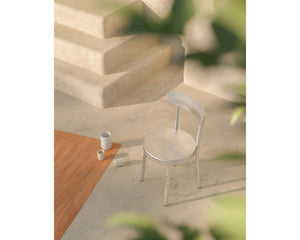 L'Auberge interiors pay tribute to a unique sensibility that cements an organic approach to design, embedding natural elements into the existing environment. Organic and untreated materials such as wood, marble, clay, terracotta, sand, and glass convey a sense of calm, forming a symbiotic relationship between the human spirit and surrounding landscape.
The earthy hues and soft-toned color palette exude a tangible harmony, combining modern design and an acknowledgment of time. Carving out traces of familiar objects from Frama's universe, the interior architecture subtly showcases signature pieces and expressions that resemble pure forms of art. Subtle cues and compositions allow the audience to imagine and visualize each piece's untold story.
Surrounded by a landscape of infinite sandy dunes, the L'Auberge suite reveals a charming remoteness. Geometric openings carved into walls and ceilings allow guests to experience the rhythmic course of nature and its elements. At the same time, interior and exterior become one as light envelops the space with its ever-evolving presence.