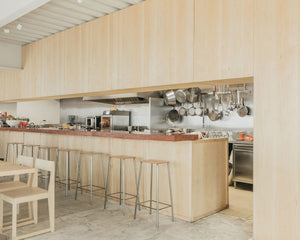 Eno Virreyes
Quality and careful consideration go along with the desire to make designs that stand by the test of time. The dialogue is central to the creation of the design, both in relation to the client and to all specialists involved in the implementation. Within the Lomas de Chapultepec neighbourhood of Mexico City is ENO restaurant, of Chef Enrique Olvera, the first Frama project in Mexico.
CLIENT:
Enrique Olvera / Eno Virreyes
SERVICES:
Interior Architecture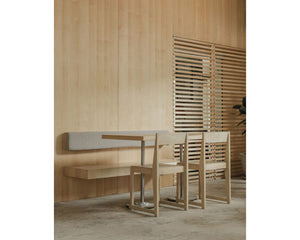 The Eno Virreyes restaurant is a lively restaurant and café in the Chapultepec district of Mexico City — first in the collection of a successful series founded by Chef Enrique Olvera.  A natural palette is found throughout, spotlighting local materials. Deep red pigmented concrete plays a contrasting role to the bright and light space, mostly clad in creams and local maple wood. With the full interior renovation, Frama aimed to embrace the long horizontal lines of the space, in addition, to add warmth and tactility to the space in a streamlined sense that gives a nod to Mexico's rich history of materials.