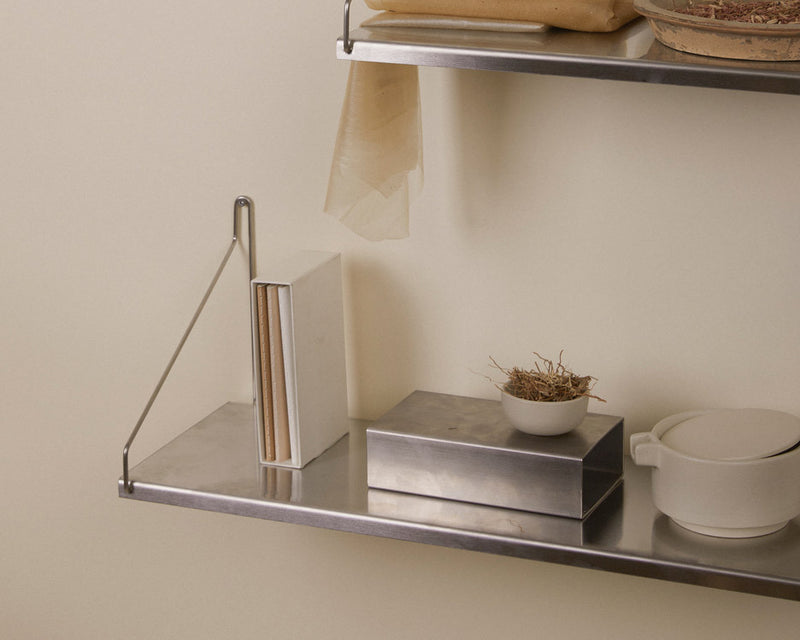 The FRAMA Shelf is a reinterpretation of the traditional Scandinavian shelf design from the fifties. Constructed from solid stainless steel and defined by a sharp yet graceful silhouette, our single shelves can be used for bedside, kitchen, office, storage, and display. Due to the material's natural corrosion resistance, the shelves can withstand rough, heavy-use applications both indoor and outdoor.
Features
Materials / Dimensions
Care and Maintenance
Design
Shipping
Weight capacity estimated to be 20 kg, depending on the wall and screws
Easy to mount
Combine shelves of varying depths and widths to create a custom configuration
Suitable for indoor and outdoor use; if placed outdoor it will develop a graceful patina with time
No screws included, standard screws can be used depending on the strength of your wall
H 1.6 / W 80 / D 20 cm
2x Brackets H 20 / D 21.1 cm
For routine cleaning the steel, ph-neutral soap and water is sufficient when applied with a sponge or cloth
Design by Kim Richardt, 2020
Made in Lithuania
Free holiday shipping on all orders until Dec 20th. FRAMA reserves the right to fully refund and cancel free shipping orders in the case of costs incurred outside average shipping value.

Most US orders ship from our warehouse in New Jersey. If we are unable to fulfill a US order from our US warehouse, we will fulfill it from Denmark and cover any duties.

In-stock items usually arrive 5-8 business days after warehouse handling. If an item is not in stock, you will see the lead time displayed on the product.
The Stainless Steel Shelves are a practical solution for both indoor and outdoor spaces.