REVIVE: An Easy Guide to Caring for Leather Furniture
 Leather is a natural material that requires the right kind of care. We have gathered a few simple steps to prolong its life and keep it looking smooth and beautiful.
Leather is a long-lasting material that, if well-maintained, gets better with age and patinates gracefully over time. The process of treating leather furniture can be a therapeutic act in itself, an opportunity to work with your hands and return to tactility.
1. Preparation
Prepare the leather surface with a clean cloth and remove accumulated dirt or dust.

2. Conditioning
Apply a small amount of leather conditioner or balsam. Rub the conditioner into the leather with a cloth or by hand. We recommend using natural-based products that provide water resistance.
3. Waiting
Let the conditioner set for 15 min and wipe the excess off.
4. Testing
To test your newly-conditioned leather, apply a few drops of water with your fingers. If the oil has been applied correctly, the beads of water should sit atop the leather without absorbing into it. Be mindful to apply a very small amount of water, so as not to darken the leather.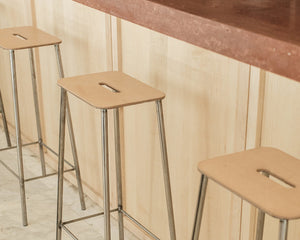 5. Frequency
The frequency with which you should condition leather varies depending on its usage. However, it's always better to limit the use of conditioner. We recommend once every six months or when the leather feels dry. Excessive conditioning can cause drastic color darkening and even damage the leather.


SHOP THE LEATHER COLLECTION