A Taste of Living: Elise Gettliffe
FRAMA meets
Elise Gettliffe, a talented potter with a background in fashion and costume design
. After an inspirational three-year stay in Japan, where she learned that pottery is about skill, not perfection, Gettliffe moved to her home and workshop in Altkirch, Alsace, envisioning and creating honest and purposeful pottery.
What was your first contact with ceramics?
When living in Japan, I took classes for three years in a small studio owned by a seventy-year-old woman. I constantly practiced, and with time, I became better at throwing. I moved to Berlin later on and took over a ceramic studio. Coincidentally, I had commissioned projects such as dish production for restaurants. I started having clients. It took me a very long time to call myself a potter. I felt I needed to be more skilled and was frightened as a creative. It took me around two years to feel confident in my craft. I moved to London afterward to continue practicing pottery, and the pandemic hit the world. With that uncertainty, I moved to where I currently am, France.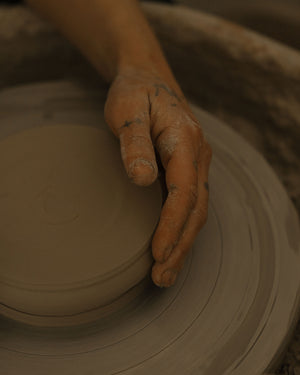 What message or feeling do you want to convey to your viewer through your works?
From my fashion designer training, I had the freedom to create pieces and use different materials. Anything was possible, but the production phase proved challenging; it was stringent. I have a very different approach to ceramics since I have no brief. For clients, of course, I have to take their requests and produce what they want. But for my creations, I meet the material, not the design.

The way the Japanese approach ceramics is very different because they have a philosophy. It is a respectful process with no waste and a restricted color palette you can work with, which is beautiful.

Clay refers to the earth. Throughout my past career, I have deep knowledge of materials. Today, I don't draw anymore. The way I work is that I think about a shape vaguely in my head. I don't need a visual reminder. That may be why I always make something more special out of my head, always different. I try to be honest in my creative process.
Besides beautifully crafted tableware and ceramic sculptures, you create ceramic objects, installations, and drawings. What is the relationship between these works?
Besides pottery, when I lived in Japan, I drew because of my beautiful Japanese retro flat. I didn't want to mess it up, so sometimes I asked myself: What can I do that doesn't make a mess? I came up with drawing as a creative solution. But since I lost all my drawings while on a train trip, I never returned to drawing again.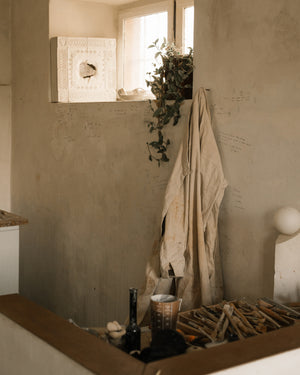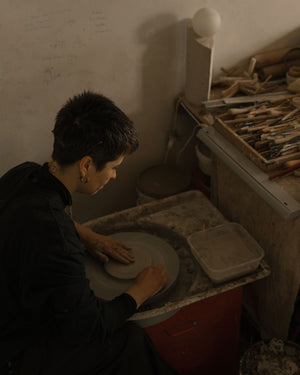 There is quite a divide in the ceramic world between things considered functional and things considered art. What's your opinion? And how does that influence your current body of work?
I pay a lot of attention to the material. If I use clay, there is no need to cover it with a shiny varnish. I always take into consideration the material.

What about the function? Of course, I have to adapt to what the client wants for projects and requests, but I am only doing something beyond asking for technical requirements. The results of my work could never be predicted. The way I do pottery is that I can never be disappointed. There is always a surprise element, and the end result is surprising since the process is unsure.

Pottery is not a practice it is a lifestyle. It is being more open to the unexpected. It never goes the way you want. The material has its properties, and you have to work around them. It's how the Japanese work–very firmly embedded in their ceramics.
Talk to us about the pieces you created for FRAMA. What is the thought behind them?
When I met Niels, we decided to embark on a project together and create a selection of vessels. As an inspiration, he showed me a Japanese sake bottle, and I had three requirements to work with–a bottle, a rope, and a lid.

I had time to experiment with shapes. I didn't have a specific result in mind. I got happy with each bottle that was coming out of the kiln. It was a free and satisfying creative process. I didn't even try to add FRAMA-like aesthetics. FRAMA accepted that I could do whatever I wanted.For this project, I teamed up with Narelle Dore–a color researcher working in Botanics, floristry, and creative industries, whose key driver is bringing audiences closer to natural processes and sharing intergenerational knowledge of crafts linked to the botanical world. ​Narelle provided naturally dyed linen from foraged, fermented, squeezed, and pulped plants such as areca nut, cutch, annatto seeds, and kakishibu, which will be used for wrapping the packaging of each vessel.
Are you currently working on a project?
I am working on a few projects with clients where communication is key. I like the dialogue throughout the creative process. The collaboration should always feel enjoyable–a product of joint forces.
Inspired by Japanese sake bottles, Elise Gettliffe has exclusively created fifteen handmade ceramic pieces for FRAMA using natural glazed clay, rope, and cork.


SHOP THE COLLECTION