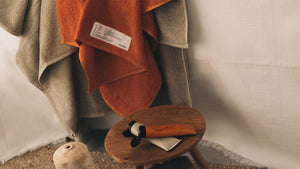 A Scent for Every Mood: Self-Care
Scent has long been associated with self-care. The use and application of aromas to enhance mood and improve health and well-being dates back to ancestral rituals that relied upon the properties of aromatic scents. Today is no different; FRAMA's Apothecary and Herbarium self-care lines harness the therapeutic benefits of essential oils and botanicals. Dive into our natural and gender-neutral wellness collections for hand, body, and hair.
Apothecary: Calm and relax

Key notes: Sandalwood, Cedar, Ylang Ylang

Sandalwood is a classic oriental warm and woody note used in Buddhist temples for its meditative properties. Cedarwood has grounding and calming effects on the mood and warming effects on the skin. Ylang ylang is a deep, rich aroma with slightly sweet, earthy, green, and floral notes well known for its therapeutic benefits, such as soothing anxiety and promoting relaxation.

Apothecary is FRAMA's signature scent—a rich blend of calming ingredients offering a warm and well-balanced aroma with a soothing effect. 
Herbarium: Boost and brighten

Key notes: Orange, Juniper, Rose, and Ho Wood

Orange is an uplifting note, increasing happiness and enhancing cognitive function. Juniper berry adds a bracing, exhilarating touch to fragrances with a fresh aroma with piney nuances. Notes like Roses are fresh, clean, and a catalyst for energy. Ho wood, a tall evergreen tree with a spreading canopy made of glossy, bright green aromatic leaves native to Asia, emanates a sweet, woody-floral bouquet scent with a delicate balsamic-herbaceous undertone.

Herbarium is a line with a fresh yet exhilarating scent with a balsamic undertone—a verdant, clean, and energizing fragrance uplifting and boosting your mood with a stimulating aroma that will re-invigorate your senses.

Herbarium has been created by FRAMA in collaboration with Be My Guest, a creative studio based in Seoul, South Korea. 
St. Pauls Apothecary Collection is developed in Copenhagen and created with natural, carefully selected ingredients. Each product is gender-neutral offering a distinct scent that helps restore skin balance. The collection sets the tone for re-discovery by captivating the senses and stressing individuality.