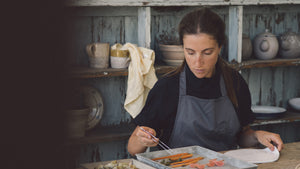 A Taste of Living: Giorgia Eugenia Goggi
FRAMA meets Giorgia, Chef at Masseria Moroseta since 2017, where she has developed her vision of a healthful, seasonal, and spontaneous cuisine mixed with her passion for organic farming, aesthetics, storytelling, and ceramics.
You approach food in a very aesthetic way where your culinary work resembles Art. Could you take us through your journey and the thought process when creating a new dish?
This is a very difficult question, perhaps the most difficult to answer. The starting point is the ingredients, which must be seasonal and local. Everything that happens after is an unconscious cloud of thoughts out of my control. I wake up thinking of a new dish to try, probably assembled and visualized in a dream. Inspiration can come from anywhere—a trip, a chat with a friend, or a walk in the garden. I imagine my creations as a layering of elements, my background as a base, and the influences of the places I grew up, the cuisines I discovered and loved as an adult, the books I read, and the nature surrounding me. Everything contributes to the creative process, but once again, nothing is consciously orchestrated. It is rather a pattern-free stream of unconsciousness with unpredictable results.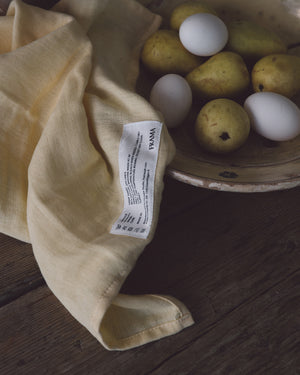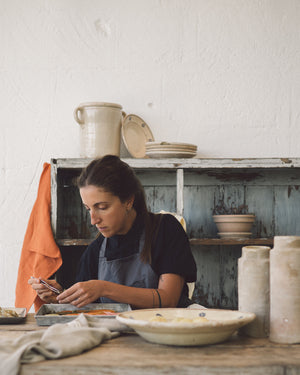 How would a "regular" week look for you?
During the high season (April to the end of October), the weeks are all punctuated similarly. I wake up around 7:30 AM and devote the first hour to myself. I make myself a coffee, read the news, check my schedule, and calmly get ready while listening to music or a podcast. After, I start to study the day's priorities in my head. For many years I was in charge of the breakfast shift at Masseria, and now I have happily passed the baton to two of my colleagues, so this morning ritual feels like the greatest gift I can give myself.

Once I arrive at the Masseria, I always check the goods that have arrived and what is ready to be harvested in the garden. Ingredients are our only "credo," so it is critical to be present and attentive to what is delivered to organize the menu accordingly.
Afterward, I start briefing the kitchen team, front of house, and the events department, so that we have everything clear and under control and can proceed with the next few hours in an organized manner. Depending on the needs, the morning goes on between the kitchen and the office.

Around 3 PM, we take a break, hoping that the "mise en place" is done and the kitchen is sufficiently tidy. My break intervals depend on my level of fatigue; they can be a nap at home, a swim in the pool, a run in the countryside, or a call with a friend.

At 6 PM, we start preparing for the dinner service. At 8 PM, we go on stage, and for at least 3 hours, we are all focused only on that. Around midnight I return home, never before having a glass of wine, my ritual that marks the end of the workday.
How did you end up doing what you do?
My passion for cooking has been there for as long as I can remember. I spent every afternoon of my childhood in the kitchen with my mom and grandmothers, enchanted by those ancient gestures and unforgettable smells. My move to Apulia was supposed to be a two-month temporary residency in the summer of 2017. But after understanding the uniqueness of living and working in a place still so pristine, I never left.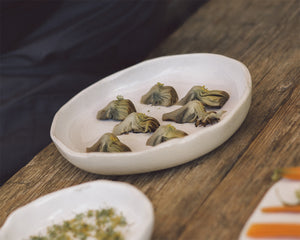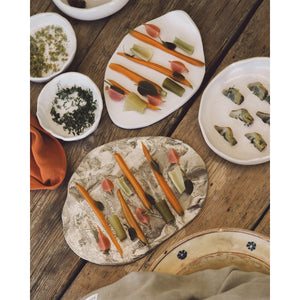 When you're not working, what do you do to unwind?
If I have time, I travel as much as possible. During the high season, taking long weekends and disconnecting is complicated, so I visit new places during winter for research and inspiration. My trips are a magical combination of long walks, art, culture, and a generous amount of food, equally distributed between cafés, cool and new restaurants, street food, bakeries, and midnight snacks. When not traveling, I enjoy the tranquility of a few days at home doing everyday things. I spend so much time away from home while I work that indulging in quiet days reading, cooking, and making your home environment cozy, yours, and familiar is an absolute pleasure.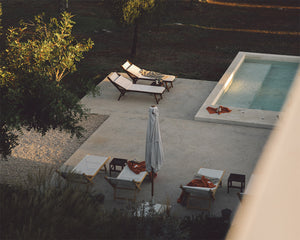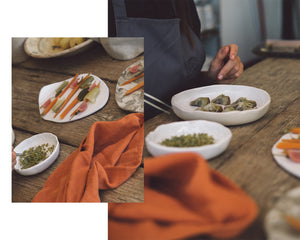 When do you feel the most at home, and what are the most important home elements for you?
I can feel at home in many places. It is a feeling related to the emotional sphere, not a physical location. I feel at home when I visit my best friend in London, I feel at home at Moroseta surrounded by guests, friends, and family, I feel at home in a kitchen when the energy flows and ideas arise spontaneously, I feel at home in the vegetable garden among rows of tomatoes and herbs. It is about feeling comfortable, free to express yourself, protected, surrounded by love and respect, being safe.

The key to a cozy environment is mainly light. Lots of natural light during the day, filtered by linen curtains diffusing it and making it soft. In the evening, on the other hand, small warm spots of light are well distributed around the house—and lots of candles, of course. I favor neutral colors, from white to gray, through all shades of sand, terracotta, and wood. Then I like to have plants by the windows, my favorite books, antique pottery bought at Sunday markets, and always background music.
What is your favourite dish to cook for your guests? And for yourself?
These days, having just come out of winter, I am fond of fresh pasta. Specifically, ravioli in broth interpreted in my way. It is a very comforting and familiar dish, but with a certain level of technical complexity and interesting flavors. I especially like to work with vegetable elements but look for the same flavor intensity as a meat filling, working with techniques like smoking, fermenting, and flavor concentration. 

I keep it very simple when it comes to cooking just for myself, like carefully made tomato toast in the summer or bread, butter, and anchovies, which can never be lacking in my home fridge.