Artistic Encounters: Ali Gallefoss
Ali Gallefoss is a Norwegian artist and furniture designer. His body of work is free and intuitive. Ali's practice is based on exploring different crafts and materials and learning during the process.
Who is Ali Gallefoss?
As a person, I am lively and fun, but as an artist, I am very serious about my work. I am serious about my craft but not serious about being serious. 
How would you describe your work?
My body of work is free and intuitive. My practice is based on exploring different crafts and materials and learning during the process. I always have an initial idea, but I am curious about the small mistakes during the creative process. Sometimes after doing this intuitive work for a while, I facilitate for errors to happen. Building in clay very fast, for example, waiting for something to occur that I cannot control. When interacting with the materials, when things go wrong, you can get something that is not "too designed."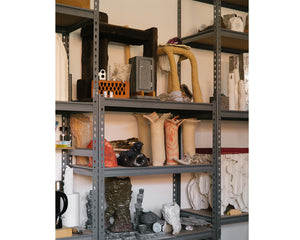 How did your journey with art begin?
I never thought that I would become an artist or a designer. I did not have an interest in art when growing up. With time, I became interested in fashion and began to work in retail in Bergen, where I met and employed other creative people who expanded my horizon. That was the entry into studying Interior Architecture and Design at Bergen Academy of Art and Design. Initially, my approach was minimalistic and straightforward, with simple and material-focused structures since I didn't have any experience with making anything before. But when I learned that, I wanted to break out of the traditional design and stand out. It spiraled. Instead of expressing myself through clothing, I began to express myself through furniture and objects. I now design by sketching in the material, not on paper. 
What inspires you?
Travel, but not in the sense of traveling long distances or visiting countries, could be the walk to work or public transportation; these small shifting environments are critical to my process. That's when my brain starts to get productive. That's the meditation to align my thoughts, making sense of my thoughts. That transition or travel is very important. 

Nature is also essential. When you live in a city, you don't see and experience nature and wildlife very often, but when you do, it is impactful. It may seem distant. This lack of nature inspires me to recreate natural and organic shapes within my work. It is an intuitive process influenced by nature and growth, almost like something being born.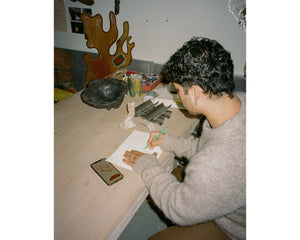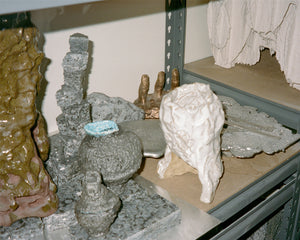 You work with various materials and textures which gives your work an almost sculptural feel. Is there a reason why you choose these materials in particular?
I am most comfortable working with soft clay, where you can add and remove; it's moldable. It is one of my favorite materials, but at the same time, I enjoy working with stone and metal. You get exhausted, it hurts, and you get frustrated. It is a mental process where I can often push myself further. It's a balance.
Is there any future plan you are willing to share with us? What projects lie ahead of you?
I am exhibiting at Nevven, a gallery in Gothenburg. On the 26th of January, I'm showing a variation of my works, from bronze, aluminum, ceramics, and maybe more. Together with Kiosken, a gallery from Bergen I will show some new works in Stockholm the 7th February. In april I am showing some casted aluminum works at Numeroventi in Florence. I also have several exhibitions planned throughout 2023.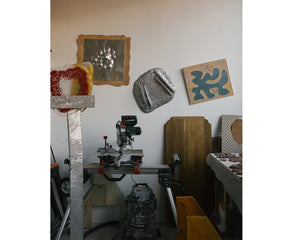 Top 3 favourite places in Oslo
It's hard to choose because there are so many lovely places. There is an area called "Tullinløkka" where you can find spots such as Becco, Trekanten, Kafeteria August, and Fuglen—an area that has been empty but is now blooming. High-quality places with remarkable interiors where every detail is thought through and done in close collaboration with artists.

"St. Hanshaugen" is another area I enjoy. I lived there for a long time. It's the clash between east and west. Spots such as Melk Gallery and Grotto Wine Bar are worth mentioning. 

"Gamlebyen" is another location I recommend exploring, a neighborhood close to Bjørvika, a newly developed commercial area.