Postcard From: Alblanc Atelier, Barcelona
Located in the historical neighborhood of Poblenou, also called 'the new village' in Barcelona, lays Alblanc Atelier: Frama's Studio Store.
An area with a marked industrial character, Poblenou has become a central axis for leisure, art, and culture in the Catalan city.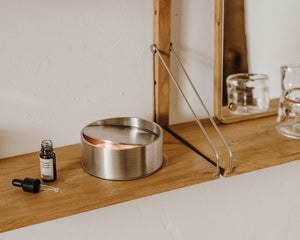 The location draws its inspiration from traditional Costa Brava masies with big windows, imperfect walls, soaring ceilings, and Catalan vaults. The studio not only functions as Frama's Barcelona home but also as the home of local florist Alblanc whose floral sensibility and gorgeously understated arrangements are easily spotted at shops around town. The atelier is a preserved industrial structure from the late 19th century mixed with a Mediterranean identity. The space embraces natural materials and simple geometries where each displayed piece pays homage to the basics — a symbiosis between interior architecture and the art of living simply.
Hidden away in the back of the space, a light-filled greenhouse creates a warm and welcoming retreat where one can gather, work, celebrate, or simply relax.
Alblanc is a space reminiscent of the peaceful countryside life, a state of mind where ideas flow and everyday life is connected to nature.