Shelf Library: A Blank Canvas
FRAMA's celebrated and versatile Shelf Library adds visual intrigue to bare and empty walls turning them into a contemplation of one's artistry.
The Shelf Library is a classic storage solution made from durable and time-honored materials such as solid oak and stainless steel.
This modular shelving system works as a blank canvas for your belongings. From the kitchen to the study and your wardrobe, the shelf library presents endless combinations for creating your visual expression. These elegant shelves mirror a space where ideas, feelings, and values are visually represented—a special manifestation in a perceptible form.
With the right tips in mind, you can very quickly turn your shelf library system into a visual dance of the imagination. Get started today with these tips.
Tips on creating the right storage system space
Whether you want to use your shelves for storage or display, we have prepared a few styling tips to help you make your modular storage space shine. And for it to become a beautiful and natural part of your home.
1. Let there be light
Add lighting to Illuminate your Shelf Library by placing a table lamp or a subtle candlelight for an inviting atmosphere.

2. Display your book collections or include art pieces
A shelf library is very ideal for displaying your beloved book or magazine collections. We encourage you to place an art piece or ornament for an artistic and more personal touch.
3. Add color to the back wall or a textured surface around your storage system
To create a backdrop and highlight the presence of your Shelf Library, consider painting the wall behind your shelving setup. Moreover, adding a textured textile such as a carpet around your storage solution helps to frame the space with a welcoming and warm atmosphere.
4.Choose a finish
Create different scenarios for different rooms with natural, white, dark, andstainless steel shelf libraryfinishes. Choose Stainless Steel for the kitchen or bathroom for a sleek and minimal look. Go for anatural,white, ordark woodenfinish for the living room or bedroom to add a cozy and welcoming feeling.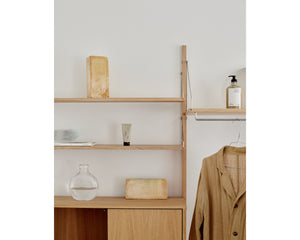 5. Fill out the empty spaces and add up contrast
We advise breaking the shelf's linear geometry by adding interest withsculptural objects, from a potted plant,ceramics, andglasswaretofolded towelsand hanging kitchen utensils. You can also break up the monotony by displaying items such asbooksboth vertically and horizontally.
Customise the shelf library modular system to your space and needs
The Shelf Library modular system is perfect for storing, displaying, or hanging your items; hiding clutter, paperwork, or utensils by adding cabinets; working, reading, or creating. Anything is possible! Only your imagination sets the limits for how you can fashion the shelves. 
With this in mind, it is safe to say that one of the most essential tips for making your storage system an extension of your personal style is to use personal and unique items to enliven your space.
Create your own customized shelving system via our Shelf Library Configurator. Here, you can create endless combinations of storage configurations to perfectly match your home design and the available space.